[rev_slider_vc alias="demonstration"]
Wellscroft Farm owner, David Kennard, has been delighting audiences with his informative and entertaining herding demonstrations for over twenty years. His demonstrations have taken place at numerous county fairs, sheep festivals, and farm days throughout New England and have even taken him to the Washington, DC mall for the Smithsonian Folk Life Festival in June 1999. He has also used his dogs as wranglers for movies shot in the New England area, and is frequently called on by local farmers to locate and round up escaped animals. David runs Wellscroft Farm which is one of New Hampshire's largest sheep operations, and it is here that his dogs are used on a daily basis. It is a common sight to see David or his shepherd herding a large flock of sheep through the streets of Chesham on their way to a new pasture. David's son, Colin, is also an accomplished dog handler and demonstrator. When he is home Colin will frequently accompany his father on demonstrations, and they will challenge each other to difficult handling tasks much to the delight of the audience.
David's dog herding demonstrations are very popular with audiences as he goes to great lengths to explain how the dogs work. Every dog has a different effect on the herded animal and David's specialty of working as many as seven dogs at once, shows the true team effort needed between the farmer and his canines. Many of his demonstrations become even more interesting as he will frequently engage children and/or adults from the audience to try and put the sheep in a pen or separate them. This becomes very amusing with a lot of cheering on by the crowd. But it also points out how one dog can do the work of many people with less stress to the herded animal.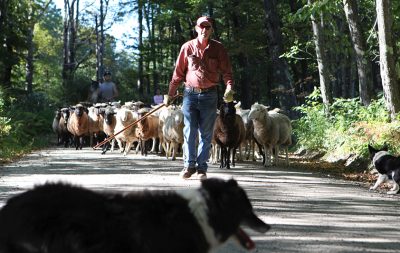 Over the years, David has specialized in using Border Collies although many other breeds of dogs also herd. He believes that their quiet power and balance provide the least stressful and most effective method of moving livestock. In addition to sheep, David can demonstrate with cattle, pigs, ducks and goats.
At the end of the demonstration, he rewards his dogs by playing frisbee, ball and has them jump the fence to interact with the audience. He will explain to the crowd the importance of giving a working dog something to do and he does not encourage people to get a Border Collie just as a pet. David will frequently bring a six-month-old pup to show its raw instincts, and occasionally he will bring a litter of young puppies to a demonstration, but explains that he will only place them in working situations.
If you are interested in having a demo, please contact us for further information.
Below is a list of the fairs and festivals at which Wellscroft Farm will present herding demonstrations. Please visit the event's individual website for more information on the times the demonstrations will take place.